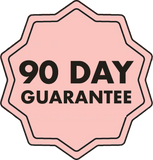 Our Hair-Free Guarantee
Try Nood for 90 days. If you've still got hair to spare, we'll hook you up with a full refund, no strings attached.
Learn More
What's Included In Each Kit
Your handset comes with everything you need to safely flash your way to a hair free you.
The Nood IPL Handset


The Nood Power Adapter


600,000 Lifetime Flashes


3-10 J/m2 Energy Level


300-1200 nm Wavelength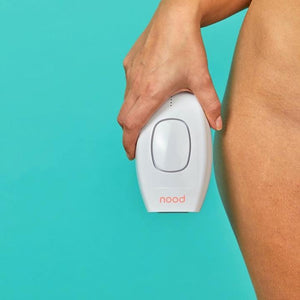 Thins Hair & Stunts Growth
The Flasher by Nood was designed with proprietary FSPL™ (Full Spectrum Pulsed Light) with 5 different levels to best suit your skin tone and sensitivity. With just 10 minutes of treatment once per week, most people start to see results in under a month. From there, keep your hair in a dormant state with treatments once every 2 - 3 months as needed.
5 different levels to match your skin


See Results In As Little as 3 Weeks.

Join Thousands Of Other Happy Noodists
Thousands of women have tossed their razors after using Nood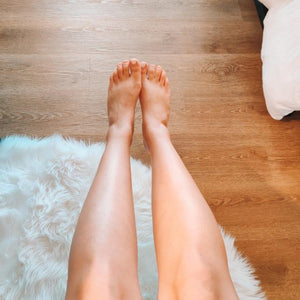 4 Weeks Ago
I've had my Nood handset for close to 3 months now and while I was skeptical at first, I have noticed a decrease in hair growth on my legs. It's especially obvious on my thighs. The pic is after not shaving for over a week and it's still just stubble!
Miranda Verified Buyer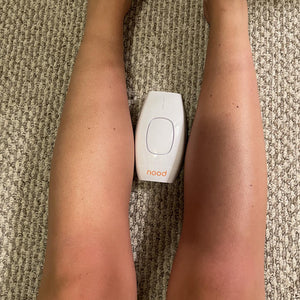 1 Week Ago
So happy to have finally found a hair removal product that works. It isn't an overnight fix but man it does work!! Thank you, Nood :)
Lauren Verified Buyer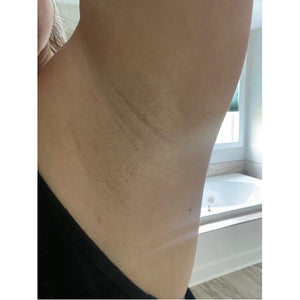 4 Weeks Ago
I was a little skeptical at first but I am loving my Nood! I have used it a few times and I am already starting to see a reduction in my hair growth and I have to shave less often.
Jacqueline Verified Buyer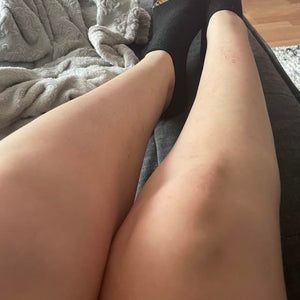 3 Weeks Ago
I just got Nood a month ago and I am already seeing results! I love how smooth my skin feels after using and how the hair grows back much slower than normal.
Georgina Verified Buyer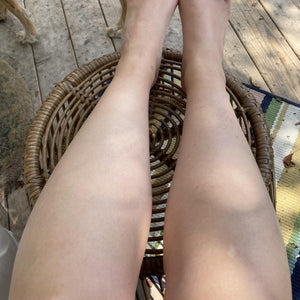 4 Weeks Ago
I have thick, dark hair on my sensitive legs and have struggled with razor burn for forever. After consistently using for 2 months, my hair's regrowth has definitely slowed and some isn't growing back at all! I can now go a full week or so without needing to shave when my hair used to grow back overnight! I highly recommend!!
Abby Verified Buyer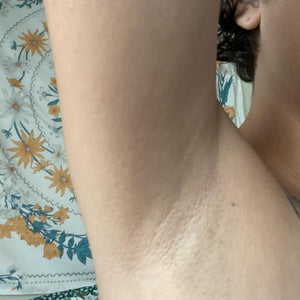 4 Weeks Ago
After a month of use, my armpits are smoother and happier than ever.
Sarah Verified Buyer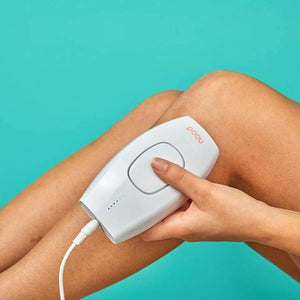 Pain-Free & Permanent
Our IPL handset uses a xenon bulb to deliver full spectrum light that works on multiple skin and hair types; leaving you with beautiful soft skin without the painful zap of a laser.
Proprietary FSPL™ technology


Less painful than traditional laser hair removal


Leaves you with beautiful, baby soft skin

Join the Nood Fam
Hear what others have had to say about their experience with Nood
If You Like Getting Into The Weeds, Here's Everything Behind Our Bushes
What is the difference between IPL and Laser Hair Removal?
The main difference between IPL and laser is the type of light used. IPL or intense pulsed light, is a broadband pulsed light, whereas laser is a single monochromatic light source. IPL and laser technologies both target the melanin in the hair follicle and you can expect permanent results from both. Energy, frequency and hair colour are all determining factors in the efficacy of the treatment, while the light source, whether it is a laser or an intense pulsed flash light plays a minor role.
Does my handset come with a warranty?
Yes! Each handset comes with a limited 1 year manufacturer's warranty. If your handset stops working due to a manufacturing defect, it is eligible for a full replacement at no cost to you. You can read more details about our warranties here in our terms of service here.
Does IPL work on all skin types and hair colors?
Unfortunately not all hair and skin types are suitable for IPL treatment. Generally speaking, IPL does not work on blonde and red hair or very dark skin. Use our chart below to see if Nood will work for you:

*Smiley faces mean that Nood will work on that combo of skin and hair color. Sad faces means it likely will not be effective.
Is the treatment painful?
Unlike laser hair removal, IPL or intense pulsed light hair removal is generally considered to be much safer and less painful. This is because IPL uses a multi-spectrum bulb vs a single-wavelength laser. You may feel a slight tingle in sensitive areas during treatment, but it should not be painful.
Is the hair loss permanent?
You should see up to 80% hair removal following the scheduled treatment plan. When using your device, you are destroying hair follicles that are currently in the 'anagen' hair growth phase. It is possible that hairs that were not in the 'anagen' phase during treatment will still grow. This is why we recommend doing maintenance treatment once every 1-2 months as needed.